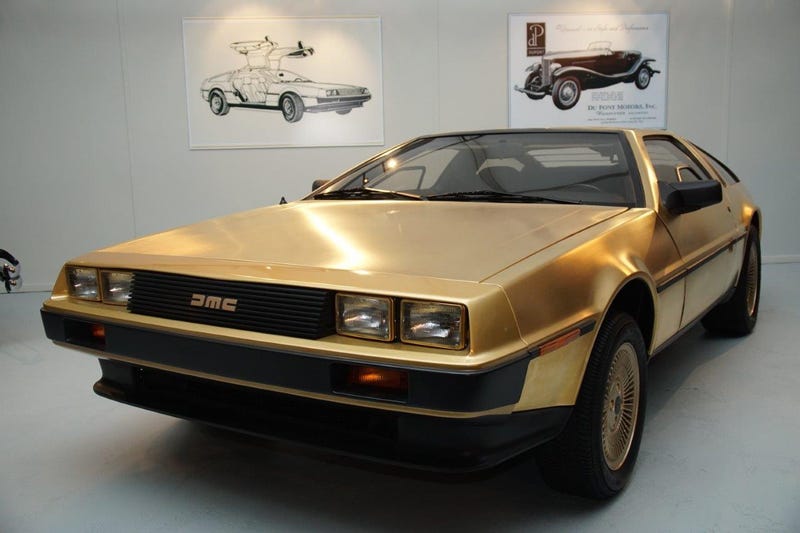 This past Friday, February 6th, the Gipper would've been 104 years old—and so the Ronald Reagan National Library and Museum commemorated the warm Californian day with a wreath laying, a 21-gun salute, a flyover by Tiger Squadron, and a tribute from Vice Admiral Michael Miller (Ret.), who spoke at length about what it was like serving on the USS Reagan. The former president had a love for cars, or at least a trusting appreciation—an early proponent of the Subaru BRAT, for example. So he probably would've appreciated these, too.
More Photos on CarStories.com
"Amazing Automobiles" puts some of the Petersen's wildest, flashiest, most impressive cars under one tent, literally. Like Duesenbergs, Bugattis, and Ferraris. Like the gold DeLorean, Reagonomics on wheels, one of only three ever made through an American Express promotion. Or the imposing, boat-tailed DuPont Model G Speedster with an eagle's head hood ornament the approximate size of a honey-dew melon. (Maybe it only seems that big.) Or the 1929 Ruxton, one of the first FWD cars built, and it shows: without a big, long driveshaft, they could build a car so low it didn't need running boards—and, plus, it looked racier than anything else. With a 100-horsepower, straight-eight engine, it might have been. And with period-correct, knockout raspberry and orchid paint, it certainly didn't look like anything else.
Or Phil Hill's Mercer, which is a nice touch of Americana: our first sports car, owned by our first F1 World Champion. "There are American cars that rank higher in rarity than the Mercer Raceabout," the esteemed Ken Purdy once wrote, "but no car ever built in America is more sought after or more prized." It's because it looks good, he commented, stripped of frills even in the 1910s. And second—and this helps a lot, trust me—it was fast.
The Golden Star, from eminently talented hot-rodding duo Ermie Immerso and Don Thelan, who built this wonder machine out of two Model Ts, hand-making nearly everything on the car: the one-piece fiberglass nose, the stainless-steel grille, the Frenched taillights and the aluminum intake manifolds. Yes, that is real 24-karat gold, from the dashboard to the velocity stacks—which lead into a 255 cubic-inch Ford Indy engine with double overhead cams. For all of Immerso and Thelan's efforts, Golden Star won two AMBR awards, in 1989 and 1991.
The Plymouth Sniper, built by Chip Foose and Troy Trepanier, the other talented hot-rodding duo that's currently here, has a Dodge Viper V-10 under its surprisingly subtle bodywork—which is based on a 1954 Plymouth Savoy. Savoy, Viper, Sniper. Get it? Hold on, let me reread that again.
The Jaguar XJ220, one of the most dramatic supercars of the 1990s—the standard of children's' bedrooms, as pivotal to the development of young gearheads as the Lamborghini Countach for another generation. A shape like a Laffy Taffy, it never got its V12, but it certainly looks like it deserved it.
And the Ferrari Barchetta, subtle but beautiful—originally ordered for Henry Ford II, long before corporate takeover arguments and all of that Le Mans unpleasantness. Just three years after this Barchetta arrived from Modena, Ford introduced the 1955 Thunderbird—and a quick glance at the egg-crate grille, crossed flags, and lidded headlights will show a few nods by designers toward the Barchetta's direction. I wouldn't say that's copying, of course. Just flattery.
The "Amazing Automobiles" exhibit at the Reagan Library runs through May 1, 2015. You can purchase tickets at the Reagan Library website.
CarStory by: Blake Z. Rong Photos by: Albert Wong